Love Kustoms is honored to have been recognized for our hard work and dedication with these prestigious awards.
2020-2021 Awards & Recognition
1932 Ford Coupe- GoodGuys "Builder of the Year" Finalist
This "Little Deuce Coupe" is our newest creation out of the shop as it was debuted in August at the NSRA 52nd Annual Street Rod Nationals in Louisville, KY where it was featured in the 2021 "Elite Builders Showcase". Our great customer, Martin Miller, brought this already once award winning '32 to Love Kustoms in 2020 with a goal to take it to the next level. With a full refresh on the paint , chassis, and suspension, looks are not the only thing that changed. This elegant ride is more than just a looker as she now packs a custom built LS3 by Jeff Taylor Performance with top notch internals including a custom ground cam with a sound that rivals and altered dragster! Shes dyno'ed at over 700 hp while breathing through a one off stack injection CNC'ed by Hogans Racing Manifolds topped with a ton of custom machined and hand built parts to bring the beauty to this beast! Pictures will never do this car justice as the details flow all the way through this car even down to the one off stainless exhaust sporting stainless tips CNC'ed out of one piece of stainless by Craig Shornak. Cars like this are only possible because of amazing customers. She has already left us speechless representing the shop at her first showing at Goodguys Rod and Custom Show in York, Pa where we are so humbled to have been selected as the Chevrolet Performance GM Retro Iron Builder of the Year Finalist!
---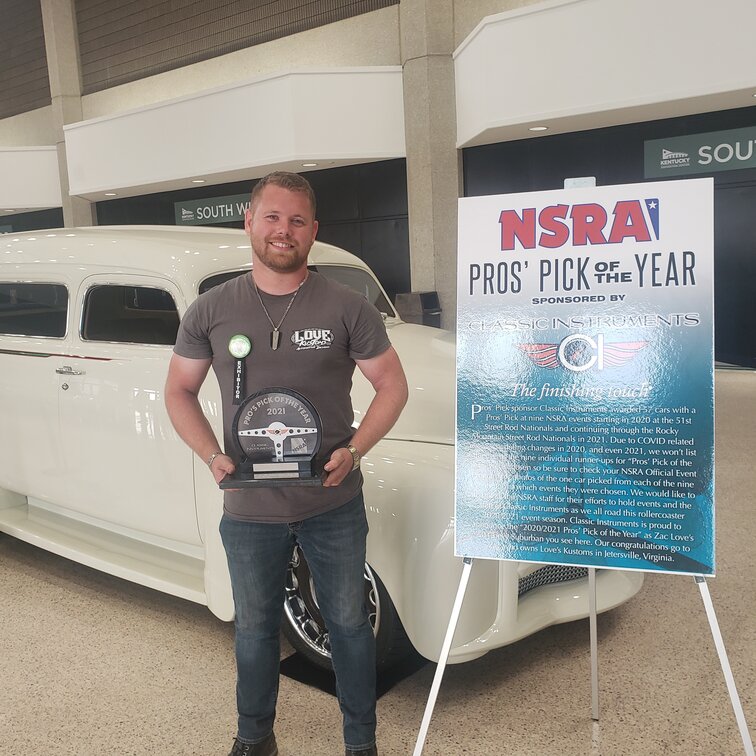 This year has been an amazing year for us at Love Kustoms as we returned to a full schedule of packed shows and the debut of a couple over the top builds! Among those shows came some fantastic awards that really represented the shop, our workmanship, and our customers well. One recognition specifically set the tone as our show season comes towards an end as John Bottger's 1950 Suburban won NSRA's 2020/2021 Pro's Pick of the Year!
Every Year the National Street Rod Association, (NSRA) hosts a number of shows all across the country bringing thousands to tens of thousands of cars and people from all over starting with their biggest event the Street Rod Nationals in Louisville, KY. At each event builders and hobbyists bring vehicles to compete for each shows top 5 awards called "Pro's Pick". From each show NSRA then select one "Pro's Pick" as a Finalist for their top award of the year "Pro's Pick of the Year". The "Pro's Pick of the Year" award is then displayed in the front hall of the Exposition Center in Louisville, KY at the Street Rod Nationals, where the Award is presented Friday evening at their yearly awards banquet, and the vehicle is then featured in a spread in NSRA's Street Scene Magazine. This year we were so humbled to have our hard work recognized as they chose our 1950 Suburban to be this years "Pro's Pick of the Year Winner"!!!
---
Madness in the Mountains 2021 was a show for all! Hundreds of cars and trucks from street rods, muscle cars, imports, mini-trucks, and much more filled the town of Bluefield WV for family fun and entertainment. Our latest Build, John Bottgers' Suburban was presented with Best of show overall followed by a photo shoot for a future feature for Street Trucks Magazine!
The GoodGuys Rods & Customs North Carolina Nationals is a wrap! It was a great weekend and an awesome turnout for the 1st show of the year! The Suburban of John Bottger and 72 Chevelle of Rita & Bill King showed very well with the Suburban bringing home the "Cool Custom" award in it's GoodGuys Debut!